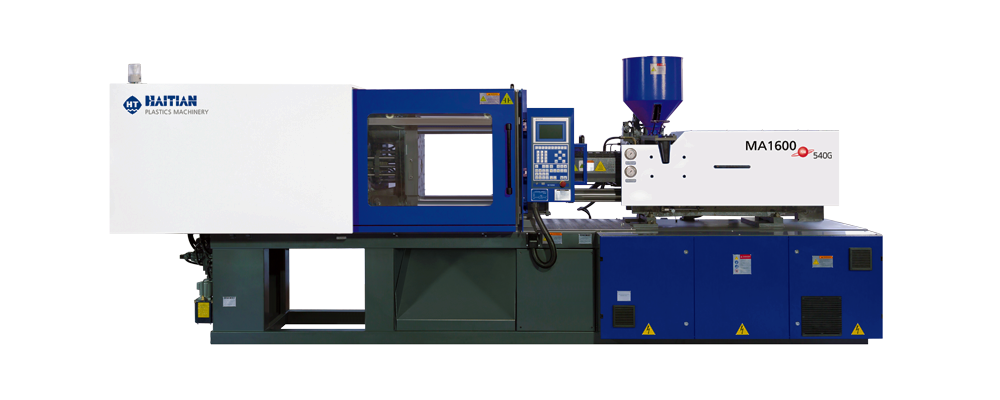 Technology to the Point
The Mars G Series
With more than 10 years in the market, the Haitian Mars Series has established itself as an absolute bestseller with more than 250,000 units sold. Due to its performance, energy-efficiency and flexibility, the Mars Series is perfectly tailored for a wide range of applications and markets.
The Mars G Series injection molding machine incorporates the latest energy-saving technologies and with it's robust design and strong mechanical structure, the machine is optimized for durability and a long working life.
An intelligent and user friendly control system provides for an easy and reliable machine setup for precise molded parts.
MA G Series
Servo-hydraulic Bestseller
Aspiration for Excellence: Continuous improvement with costumer communication for optimized growth
Quality Assurance: Vertically integrated manufacturing with international quality practices
Strong and Flexible: Modular machine design with variable machine configurations
Professional Service: Prompt and efficient service support
Safe Operation: Global safety standards according to your region are strictly followed and compliant.
Multi-point Ejection System
A great advantage for molds with different ejection requirements
High Performance Servo Motor
Highly responsive with closed loop control for stability and precision
Excellent Injection Performance
Twin-cylinder injection unit with strong guiding system, ensures durability and precision during the injection/charging stages of the molding cycle
Various Plasticizing Screws
A wide range of screw designs are available according to your material processing requirements
Automatic lubrication system
The clamping unit is optimized for precise lubrication of all moving parts
Multi-point Ejection System
A great advantage for molds with different ejection requirements
High Performance Servo Motor
Highly responsive with closed loop control for stability and precision
Excellent Injection Performance
Twin-cylinder injection unit with strong guiding system, ensures durability and precision during the injection/charging stages of the molding cycle
Various Plasticizing Screws
A wide range of screw designs are available according to your material processing requirements
Automatic lubrication system
The clamping unit is optimized for precise lubrication of all moving parts